Being a mom is a tiring yet miraculous experience that I would not change at all. That being said, there are defintiely some things I wish I'd known about being a mom.
I combined my thoughts with other moms out there to share in hopes of helping other soon-to-be moms understand motherhood a little bit better. 
What I'd Wish I'd Known About Being a Mom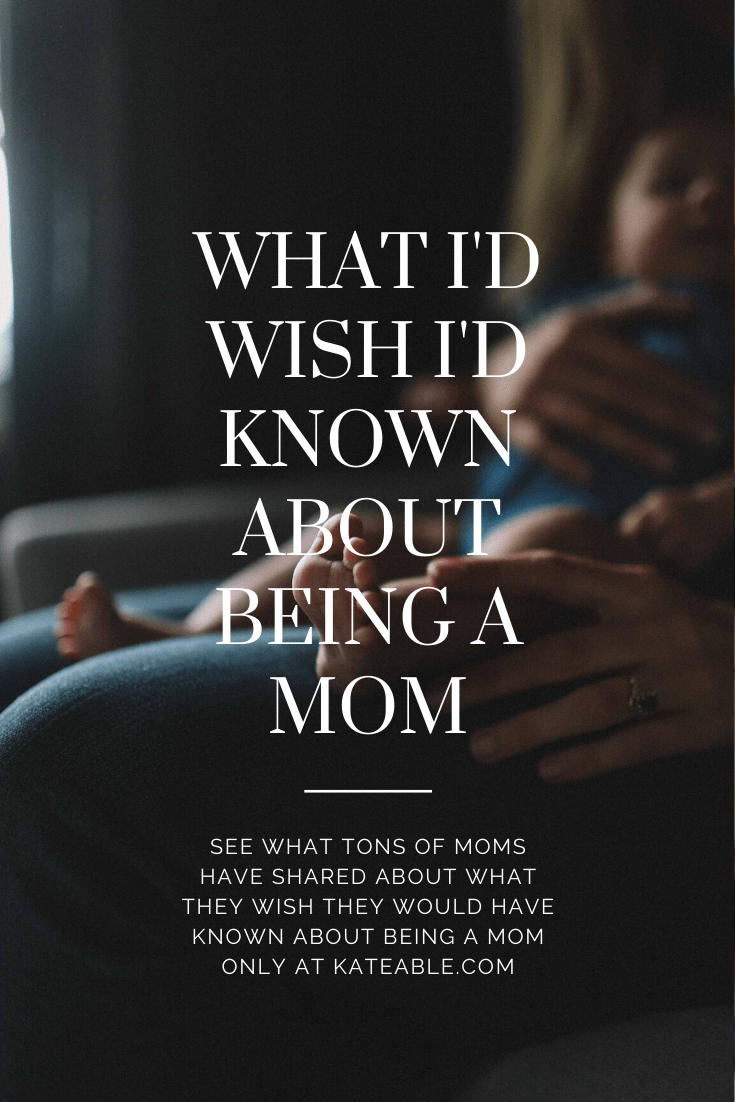 I wish I would have known the true meaning of being tired. You are not really tired as a mom, you are completely exhausted! I honestly do not know how I make it through each and every day.
Some days you do not get any sleep at all. There are endless nights where I am staring at the ceiling squished between my husband and baby, wishing I could just have a little more space, or for my baby to at least stop pulling my hair.
I wish I would have known how common miscarriages were. My doctor didn't warn me that 1 in 4 women experience miscarriages during the first 12 weeks of pregnancy. It would have saved me a lot of grief, pain, guilt, and embarrassment.
Read more about my miscarriage story here.
I wish I would have known the full weight of responsibility on your shoulders as you become a mom. You are responsible for another human being in its entirety! That is a huge weight immediately on you.
I wish I would have known that breastfeeding is not natural and easy. It is painful and hard. Some women don't have a problem, while others do, and I was in the other category.
Read more about my breastfeeding story here.
I wish I would have known the immense joy it is to be a mom. While there are many challenging and frustrating things, I would never replace them for the happiness I feel being a mom.
I wish I would have known that my heart skips a beat literally every time I look at my baby girl. Every single time without fail. I wish I would have known the joy of seeing her learn new things each and every day.
Just like everything in life, there are equally negative and positive things for everything, person, and scenario. It is up to you to look at the good. Motherhood is hard, yes, but it is also the best experience you will ever have!
READ: What to do When Your Baby Hates Tummy Time + 8 Ways to Make it Fun
Other Mom's
Here are what other moms have shared about what they wish they would have known about being a mom. Follow them along their journey as well!
Breanna from messybunsandmomjeans.com
"I really wish before I became a mom I knew that baby blues is something that everyone goes through and is normal. I never realized how awful the first two weeks would be. I knew I would be tired but when the nurse told me I'd be more emotional I thought like I would be on my period. But I could not stop crying for two weeks and was full of regret which made me feel like a TERRIBLE mom. I finally reached out to a friend that had a 6-month-old and she said she felt the same and that after a few weeks it would be gone. After two weeks it was totally gone and I was happy (albeit tired!) again."
Read more about Postpartum Depression here along with some of the best products for postpartum recovery.
Ashley Havecker from irishtwinsmomma.com
"I wish I had know more about all the bodily fluids. Between the pee, poop, spit-up, and more it felt like I was always dealing with them, but that could also be from having Irish twins. Also, to always line the car seat with a changing pad cover to help with clean up after a blow-out. Oh, and to always cover the crib mattress twice (protector, sheet, protector, sheet) so if a situation once again occurs with bodily fluids in the middle of the night you just remove and you have fresh ones underneath. It prevents having to go searching for things in the middle of the night."
Janet from mumfromdownunder.com
"Being a mum, it can be easy to forget our own needs. We might postpone that doctor's appointment, miss eating a meal or feel guilty for taking time out for ourselves. Neglecting our needs and self-care can lead to issues with our physical and mental health. Being a happy mum is possible if we take care of ourselves, as well as take care of our family. Read about all of the ways in which we can be a happier mum and look after ourselves in the process."
Read more from her blog post about how to be a happy mom here.
Sidra from https://www.sheoftenblogs.com/
"The most important thing that I wished I knew about being a mom is living a selfless life. Before having a daughter I never knew I could live such a selfless life, where all my attention and focus is on my little bundle of joy. All my life rotates around my daughter, from dawn to dusk and even nights are mostly centered around her. Though motherhood is an exhausting and tough job, I love it with all my heart."
Lisa from www.yourmomvillage.com
"Having 16 years between my oldest and youngest.  I wish I knew that for the rest of my life I would never stop worrying.  That I would wear my heart outside my body daily.  That I would find my self doubting every decision for fear of failure at being a good mom."
Read more from Lisa about the seasons of being a mother here.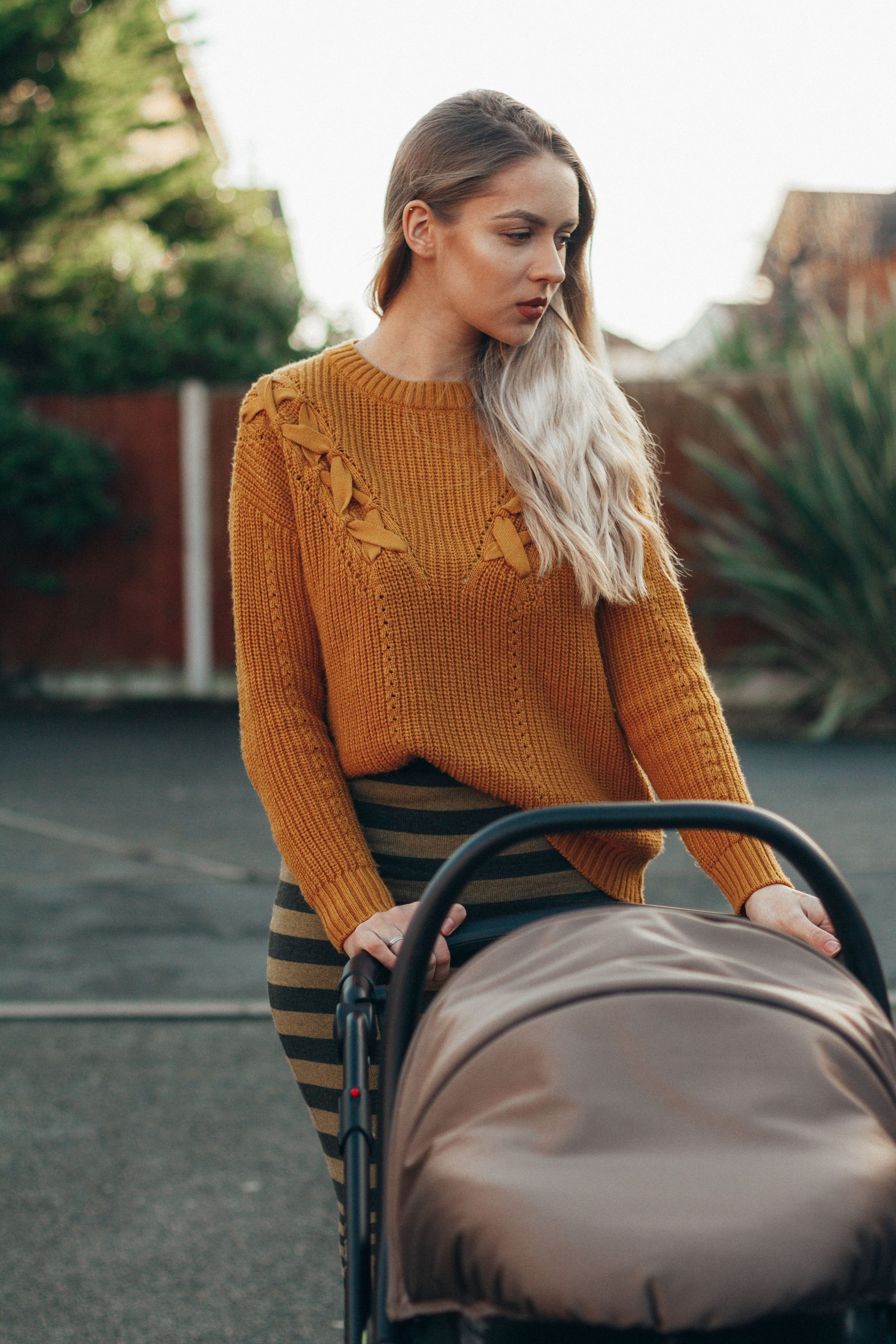 Jaimie from sunflowersandmotherhood.com
"I wish I would have known how easy the newborn stage is compared to all the other stages of parenting. As a mom of a 7-year-old, 5-year-old and a 4-month-old, the baby stage is truly the easiest. Even with the sleep deprivation that comes with having a newborn, it is the sweetest time of parenting. Babies are happy to go along with you anywhere with no meltdowns, fighting or back-talk. I know it's an overused cliche but soak in the newborn stage mama because you will miss it when it's over!"
Lauren from www.theysayparenting.com
"I wish I had known there is no one right way! There are so many ways to parent and every child is so different! With all the advice out there, it's hard not to question ourselves! But at the end of the day, we know our kids better than anyone!"
Read more from Lauren on how to become a good mom here.
Talisha from www.womanwifemom.blog
"No one shared with me the importance of tending to my own needs throughout the journey. Constantly pouring my all into my family and children with no replenishment left me in a state of depression and resentment. The best advice I can give a new/prospective mom is:
Your needs matter mama! These are demanding roles that we fill, but we must protect our peace, pour into our spirits, and nurture our own beings in order to plant seeds that will result in bountiful harvests for our families."
Jennifer from www.momcavetv.com
"You can never be prepared. Nothing will go as planned. It's all a stage. It's an amazing, exhausting, beautiful, transformative challenge."
Annie from https://pancakesandsnuggles.com
"Things I wish I had known:
~ That it's not only ok but NECESSARY to ask for help!
~That I would appreciate and understand my own mother more than ever
~That I will never be the same person I once was"
Jennifer from www.mountainmat.com
"When I had my first baby – I was afraid to do anything – go anywhere or basically live my regular life. I was beholden to his schedule and I read all the baby books trying to get any extra advice I could. Before baby, I was a camping and adventure girl – but I felt like now that I had a baby – it wasn't possible. It wasn't until I had more kids (and got a little more flexible) that I learned that you can certainly go camping with little ones! I wish I had tried it earlier!!"
Read more about camping with toddlers from Jennifer here.
Kyleen from kyleenblogs.wixsite.com
"I tried to breastfeed until Colt was 4 months old because I didn't want to give up and feel like a bad parent, as that's how society portrays it. I got a lot of symptoms of postpartum depression due to the stress of trying to breastfeed. Our son is formula fed and is excelling and is in the high percentile for a lot of things. Formula-fed doesn't mean a lack of anything. Society puts so much pressure on moms to breastfeed their child and that isn't fair. Some women just can't produce, some women don't have the right breasts to breastfeed and some babies just won't latch regardless of what the mom tries."
Read more from Kyleen about breastfeeding here.
Courtney from www.theunplannedtinyhand.com
"I wish I knew how incredible it would be. I did NOT want to become a parent. I wish I knew how many moments would take my breath away. I wouldn't have been so upset and lost so much sleep over having a baby."
Rachel from https://crazyclevermama.com/
"I wish I would have known how unreasonable toddlers are, I would never had wasted so much time trying to reason with mine 🙂
I wish I would have known that it's ok to admit that you don't know everything and to ask for help because the truth is all of us are a little clueless the first time around."
Amanda from http://partyingwithtwins.com
"Before becoming a Mom I wish I would have known more about Postpartum Anxiety, or PPA. I was aware of Postpartum Depression and what signs to look for, but I wasn't familiar with PPA. After having my twins, I was overwhelmed by anxiety and worry, but I didn't think I was depressed. I loved my life and my babies so much it literally hurt! And since I didn't exhibit very many depression symptoms, I unnecessarily suffered for far too long before I gained enough courage to call my midwife and ask for help. I wish I would have known that PPA is common. I wish I would have known the signs to look for, and that there is help and you don't have to feel that way. I wish I would have asked for help sooner."
Resources for Postpartum Anxiety, including two mom's stories here and here.
What are some things you wish you would have known about being a mom? Share them in the comments!
Read Next: Your Postpartum Survival Kit