Having pain in your back is one of the most common types of pain to experience.  
You can use essential oils for back pain to help give you some relief. 
Here are the best essential oils I've found to help relieve back pain. 
Before we begin, I am not a doctor or medical professional. I'm not here to provide medical advice. Rather I'm here to share my experience and what worked for me. It is always good to speak with your doctor. 
Some of these links are affiliate links meaning if you purchase from these links, I will earn a commission at no extra cost to you. Everything I share are my own opinions and things I personally use and love. You can learn more by reviewing my disclosure.
Using Essential Oils for Pain Safely 
Essential oils are great for helping with pain and discomfort. 
Some find great relief with their joint pain, inflammation, and muscle spasms. 
When using essential oils it is always important to stay safe. 
While they are natural products, you can still use precaution. 
Try out each oil on a small area of your skin first. The foot is the best place I've found. It is rare, but some people do have reactions. It's best just to make sure. 

Always dilute. Dilution is your friend and helps you to save money as your essential oils last longer. 

Make sure the essential oils you use are safe and not filled with chemicals. Personally, I love Young Living along with Mountain Rose Herbs. Both companies are very open about their process to extract the oils so I know they are safe. Learn more about the organic essential oils from Mountain Rose Herbs here. 

Pregnant women need to be extra cautious. Some essential oils that are good for back pain and not so safe for your little one. Make sure to double-check and use the alternative oils. 
Where to Apply Essential Oils for Back Pain 
Typically, the best place I've found is directly on the back! 
The spine has the most nerves for the entire body and it helps to directly relieve the back. 
If your lower back is hurting, simply rub the essential oils directly on the painful area. 
You can also massage your foot as many believe it holds a place for every aspect of your body. 
Refer to a foot reflexology map to guide you further.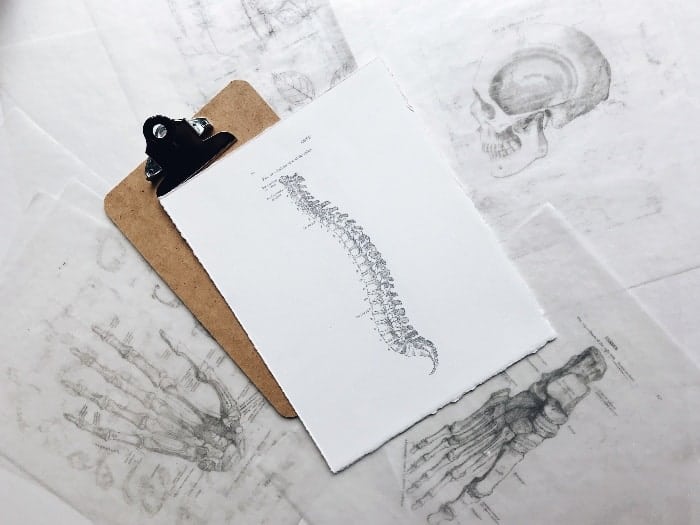 My Story 
I had a lot of back problems as a teenager. I've injured my back around six different times. 
Doctors prescribed me a lot of muscle relaxants and pain medicine. 
The pain was really bad despite all of that. There were still days I could barely walk and for a lot of the time I couldn't sit down long. 
After a few years, I wanted something better. So I tried to live a healthier lifestyle. 
I ate better and worked out to strengthen my back and it helped some. But I still struggled. 
It wasn't until I learned about toxins in my products and made the switch to natural products. 
Along that journey was when I started using essential oils for my back pain. 
I was having close to five muscle spasms in my back every day. 
After using essential oils, I went to having muscle spasms maybe once a month, if that. 
Essential oils completely changed my life and I hope they will for you as well. 
16 Best Essential Oils for Back Pain 
Here are some of the best essential oils for back pain.
I'll go through each of the types of back pain and the essential oils best suited for each pain. 
Essential Oils for Muscle Pain and Spasms 
Muscle pain is so common, especially after carrying a baby all day long or from working out. 
Essentials have so many amazing benefits. There are essential oils for muscle pain and other essential oils to relax your muscles. 
You will also find many essential oils for sore muscles as well. All these work together to help provide relief to your back pain.
Peppermint Essential Oils
Basically, any of the Peppermint oils are good for pain, especially in the back. 
Peppermint and Wintergreen kind of feel like the icy hot and help to relax your muscles.
Eucalyptus can also be really good back pain oil. I always add a couple of drops to my pain blends. [source]. 
Panaway 
Panaway is a blend from Young Living and is one of my favorites for back pain in general. I consider it the best oil for back pain. 
Not only is it good for pain, but it also is great for relaxing your mind and body and easing the burdens of stress which in turn releases the tension in your muscles. 
Panaway combines both Wintergreen and peppermint essential oils along with other powerhouse pain oils to bring relief quickly. 
I love how panaway essential oil always seems to help take away my muscle tension.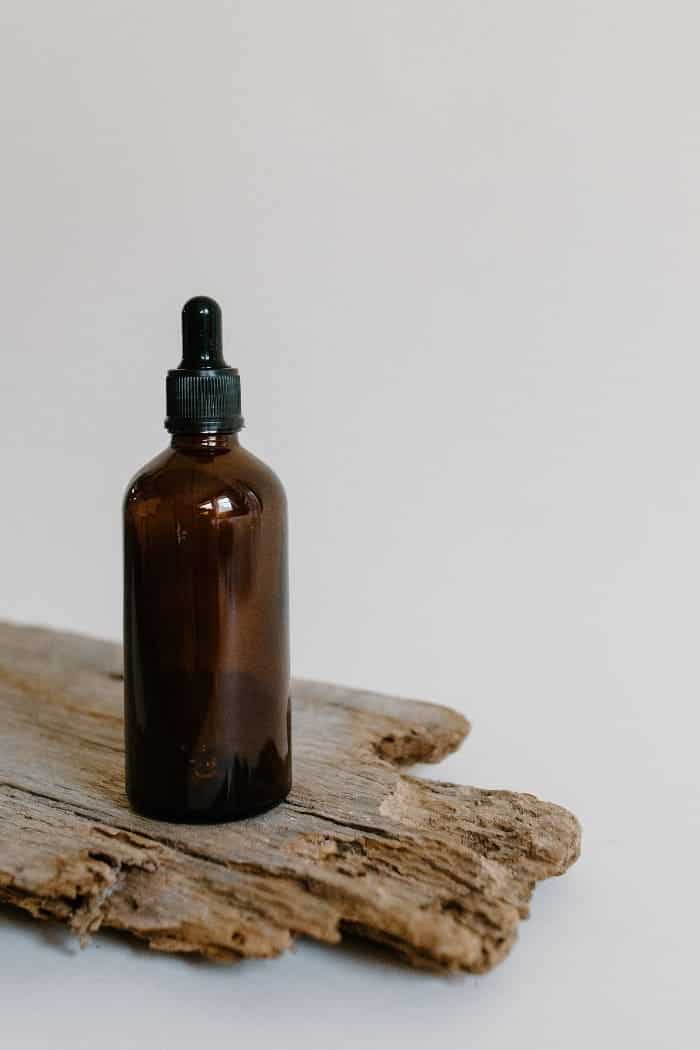 Copaiba 
Copaiba aids your body in its natural healing response to make it even faster. 
It will also sort of numb the pain so you can recover faster as well. 
This is an essential oil that is good for back pain as well. I find it one of the best essential oils for back pain as it is such a powerful oil. 
Not only that, it is a powerful essential oil for pain because it intensifies the other essential oils as well. So make sure to include it in a blend to enhance the other oils [source].
Copaiba is also what we use for our teething babies.  
Lemongrass 
Lemongrass essential oil is traditionally used to help relieve muscle pain. Not only is it great for your digestive system or to get rid of nasty bugs in your house, but it also relieves body aches. 
In one study it actually showed that lemongrass essential oil is a great alternative to synthetic drugs and a lot cheaper as well [source]. 
Clove 
Clove essential oil is another great one for relieving back pain. Usually, this essential oil is used in a massage oil along with other powerful oils for pain. 
One research used clove essential oil for lower back pains in mothers after they gave birth and found this essential oil to be highly effective with lower back pain [source]. 
Black Pepper 
Black pepper is an essential oil that will enhance all other oils around it. So, make sure to include this one in your roller bottles or massage oils. It increases the power and benefits of the other oils. 
Black pepper essential oil also has pharmacological properties as well. It also works as a great anti-inflammatory as well. 
According to one study, black pepper has antioxidant, anti-inflammatory and antinociceptive properties [source]. 
This is an amazing essential oil for back pain everyone needs to have on stock!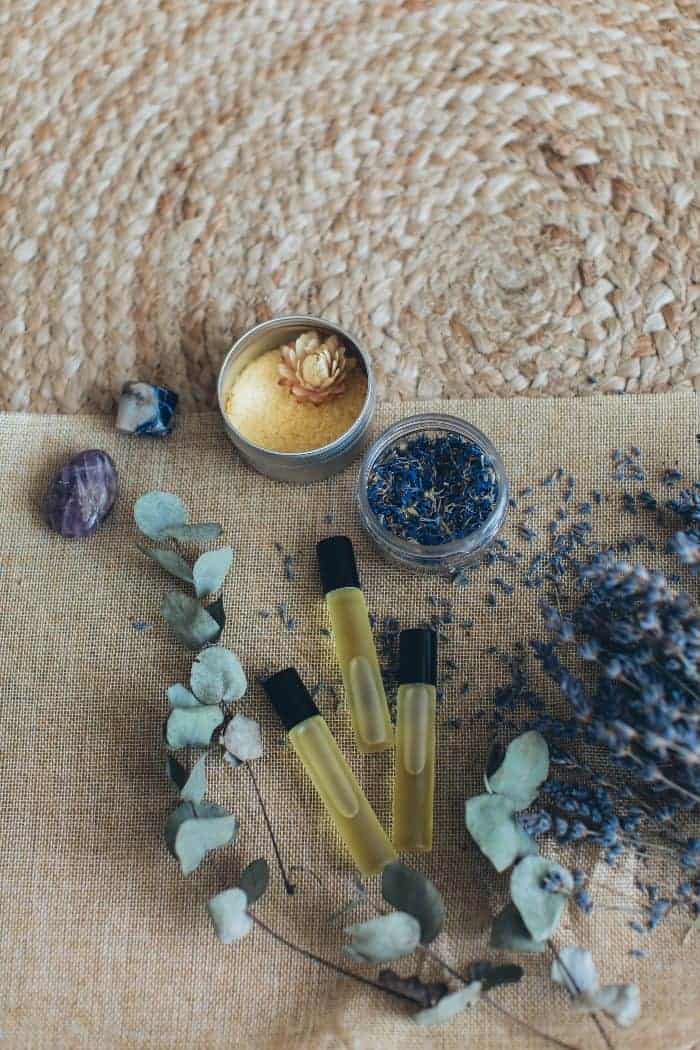 Rosemary 
Rosemary essential oil is really well known for its effects on the brain. However, one study found that a combination of rosemary and peppermint essential oil dramatically helped with muscle spasms [source]. 
Not only will your back feel a whole lot better, but your brain as well! 
Marjoram 
Marjoram is a beautiful herb and is very similar to oregano. 
One study showed how powerful marjoram essential oil can be for those with menstrual pains [source]. 
Learn about the other amazing essential oils and herbs for painful periods here. 
Oftentimes menstrual pains are associated with back pain as well. Marjoram is a great essential oil that will help both pains at the same time! 
Deep Relief 
Deep relief is another amazing essential oil blend from Young Living. Typically it is found as a roller bottle already but can also be found in their active kit. 
Deep relief means what it says: it provides a deep relaxing relief from muscle pain. I've also found it to work amazingly for headaches. 
Deep relief gives the hot/cold feel to further relax your muscles. Similar to panaway, you'll find a lot of the other essential oils for pain in this amazing blend. 
Essential Oils for Pain and Inflammation 
Inflammation is a huge deal lately. So many of our foods we typically eat cause our bodies to be inflamed. More Inflammation,  more pain. 
Turmeric 
Turmeric is amazing as it has inflammatory properties. You can add it to your foods and that will help some. But, most people need a lot more turmeric to ease their pain than what you put into your food. 
Turmeric essential oil works great for giving your body that extra boost it needs to fight inflammation. You can make your own massage oil with it and apply topically wherever you feel pain [source]. 
Cypress 
Cypress essential oil is another great one for inflammation. I have found it very useful for varicose veins and swelling. It is one of the oils I used during my pregnancy and right after I gave birth to help with swelling in my feet and legs. 
One study found that cypress essential oil, combined with copaiba and ocotea essential oils were very effective in helping with inflammation [source]. 
Frankincense 
Frankincense is a powerhouse essential oil. It is amazing for brain health, grounding, skincare, and has so many other great benefits. 
There has been multiple studies on frankincense as it is a very sought after herb and essential oil. One study shared how beneficial using frankincense essential oil can be for autoimmune disease and inflammation [source].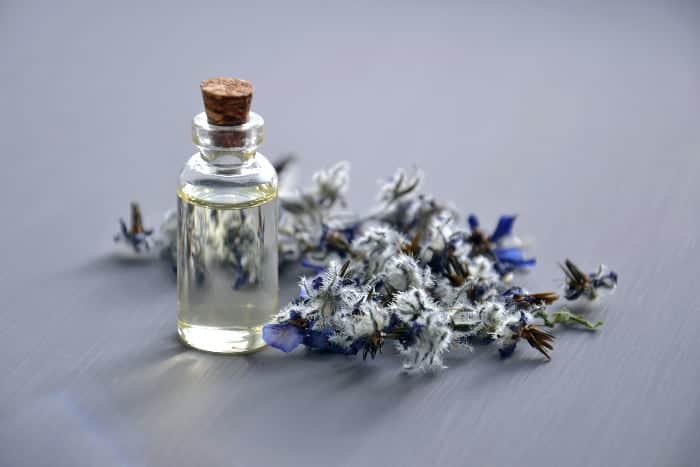 Lavender 
Lavender essential oil is another huge powerhouse oil. It is one of the most well-known essential oils. Most everyone who has tried using essential oils has used lavender oil at one point in time. 
Lavender is amazing for pain in general, but especially as an anti-inflammatory oil. So make sure to bust out your lavender oil next time you are in pain! 
One study showed how beneficial lavender essential oil is for oxidative stress and inflammation [source]. 
Basil 
Who knew that basil is a great anti-inflammatory essential oil? Not only is it a great herb to use during cooking, but you can also use it to relieve pain. 
Sweet basil was used in one study to help with inflammation and it proved to be an amazing essential oil for back pain [source]. 
Black Pepper 
As mentioned previously, black pepper is a great anti-inflammatory essential oil. Be sure to include it in your massage oil for inflammation as well. 
Essential Oils for Joint Pain 
Using essential oils for pain can help to reduce chronic pain ultimately as well. Here are some great essential oils for joint pain as well! 
Turmeric 
As mentioned previously, turmeric is also great for joint pain. I sometimes make my own joint pain or salve with turmeric, helichrysum, and panaway to further help my joints. 
One not for turmeric is that because of its rich color, your skin might be orange at times. I like to use this oil at night so I don't show my orange skin during the day. 
Ginger 
Ginger is another great herb for the kitchen, but also for pain! Now, it might be difficult to get enough in your diet to have the effects for pain, but that is where ginger essential oil comes into place. 
Ginger essential oil was used in one study with patients who suffer from osteoarthritis. There were three different groups: ginger, placebo, and ibuprofen. In the end, the ginger had the same effect as the ibuprofen [source]. 
I love studies like this that show how powerful essential oils can be for pain in relation to typical drugs. 
Ginger is one of the great essential oils for joint pain and inflammation. I love how all these oils can be used for multiple purposes as well! 
Mountain Rose Herbs also has a premade joint care extract that includes both turmeric and ginger, along with devil's claw root and yucca root.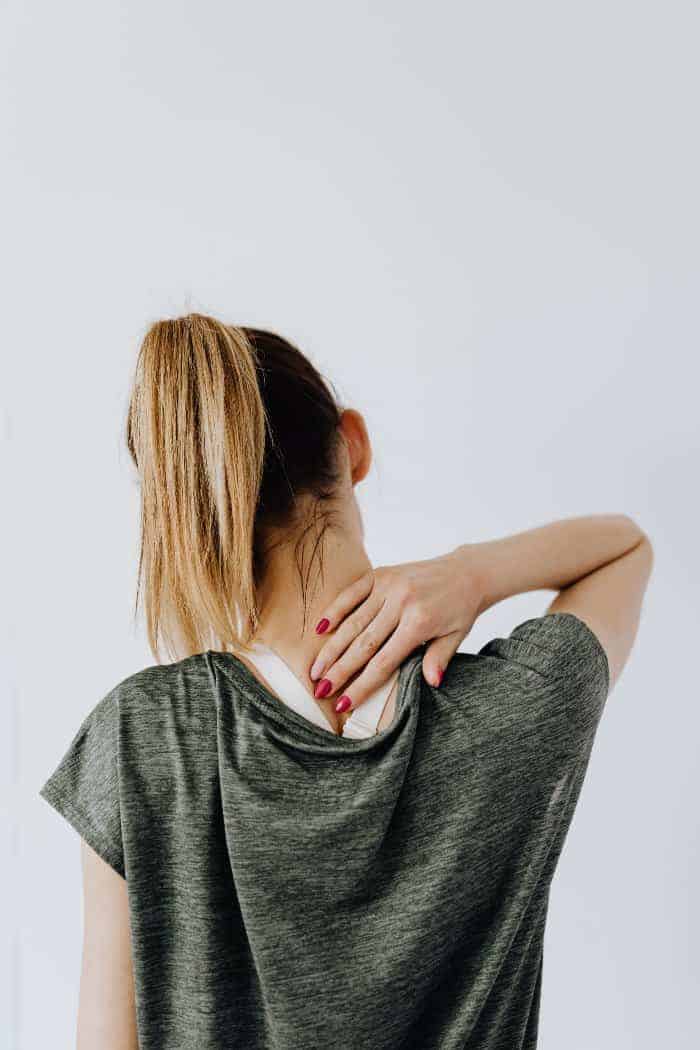 Essential Oils for Back Pain During Pregnancy 
Essential oils are amazing during pregnancy and helped me so much with my second baby. 
What to Avoid 
You will want to avoid a few essential oils during pregnancy to protect your baby. Some of these oils include: 
Peppermint 
Wintergreen 
Clary Sage
Basically, any of the mint oils are probably best to avoid. 
Sometimes peppermint essential oils have been shown to flip a baby. This might be useful in some cases where the baby's head is not down yet. 
Peppermint can also mess up your milk supply. It has been shown to decrease milk supply, so it's best to avoid it together. 
Clary Sage can bring contractions, so be sure not to use it while you are pregnant. While you are in labor, it can really help you out. 
Learn more about clary sage during labor here. 
What to Use 
Here are a few safe essential oils you can use for your back pain during pregnancy. 
Copaiba 
Copaiba is incredible for any type of pain. It uses the body's natural response to healing to make the process go faster. 
It also numbs the pain in a way to help bring you relief. I love using copaiba for all my sore muscles, especially during pregnancy. 
Copaiba is also incredible as it increases the power of other oils. So combine other oils in a massage oil and it will make the other pain oils work great! 
Helichrysum 
Helichrysum is a great essential oil for pain. Helichrysum is also amazing for the skin as well. 
It will help aid your body's natural healing process to speed things up, similar to copaiba. 
Put some helichrysum essential oil on a fresh cut or wound and watch as it heals quickly! Also works great for healing acne spots as well. 
Not only that, but helichrysum is also helpful with inflammation and arthritis as shown by this study [source]. 
I personally used Panaway during my pregnancy with caution. I only used it on my back and it was heavily diluted. I never put it near my baby. 
However, that was a personal decision on my part. You know what is best for you and your baby! 
In the end, you can also talk to your doctor and find a solution that works best for you. 
Pain Relief Essential Oil Blend Recipe
This is my all-time favorite pain relief essential oil blend recipe I created. 
Not only does it help relieve my pain, but I also found it to help stop future pain as well! 
Print out the recipe card to easily remember it for the future!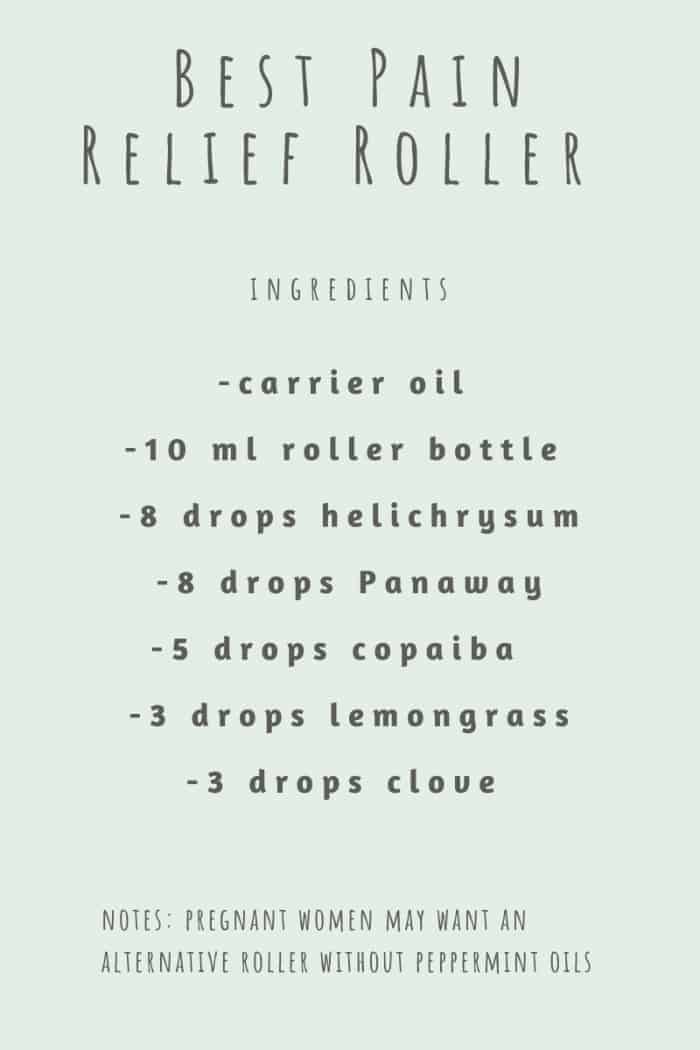 While you can make your own massage oil, Young Living has a premade massage oil to help with the pain. It is one of the best massage oils for back pain if you are running low on time to make your own. 
FAQS
Here are some common questions people ask before using essential oils muscle pain. 
Do Essential Oils Work for Back Pain? 
Yes, lots of people have success using essential oils for their back pain. There are many essential oils great for helping with pain whether it be due to inflammation, muscle spasms, or joint pain. 
What are the Best Natural Ways to Treat Lower Back Pain? 
Essential oils are a great natural way to treat lower back pain. There are a variety of oils to help relieve pain in your body, especially your lower back. Some of my favorite essential oils for lower back pain include panaway, copaiba, clove, and helichrysum. 
What is the Best Essential Oil for Pain Relief? 
There are multiple essential oils for pain relief. Peppermint, helichrysum, clove, and panaway are great options for pain relief. 
How to Use Peppermint Oil for Back Pain? 
Mix some peppermint essential oil with a carrier oil of your choice. Start small and work your way up with diluting. Then rub on your back wherever you are hurting. Gently massage it in for a bit and wait for the relief. 
Back pain can alter your daily routines and become a big issue. Try using some essential oils for pain relief. 
Do you have a favorite essential oil for back pain? Share them below in the comments!